I'm sure you've heard the horror stories about couples who bought their wedding rings online. One woman had to return her ring six times before she got one that fit, another's diamond fell out after only wearing it for two months! While these cautionary tales are scary, buying your wedding rings online doesn't have to be a disaster. If you know what red flags to look for when making this purchase, you can find an affordable ring with high quality materials. Here are some tips on how to buy your wedding bands from the comfort of your own home without all the risks involved.
Red Flags When Buying Wedding Rings Online
First, let's look at a few things that should immediately throw up a warning signal when shopping online ­for fine jewelry, especially wedding and engagement rings:
Is the price too good to be true? While everyone loves a good deal, when you see a sale price that seems unbelievably low, the product is likely not made from authentic materials. Some online jewelers are able to bring better pricing to their customers by cutting costs in other areas such as a direct-to-consumer approach. However, real diamond engagement rings and gold wedding bands should have a price tag that reflects their authenticity. Make sure you conduct your own research on the current value and pricing of the materials you are looking to purchase.
A 2-carat diamond ring for $29.99? RED FLAG
Even though it is clearly stated that this ring is sterling silver, which would bring down the price initially rather than a solid gold ring, this listing does not make it readily apparent that this is not an authentic diamond. This is a 2-carat cubic zirconia, or CZ, often seen as a cheap alternative to authentic diamonds.

A gold and diamond solitaire ring for $84.95? RED FLAG
While you can select gold and rose gold in the options when adding this ring to your cart, when you dig a little deeper into this listing and the materials, you will see that all of the options are sterling silver. They use a gold or rose gold plating on the band. The beautiful center stone is also not an authentic diamond but rather a simulated diamond with no carat weight listed.

A 10k gold and 1 carat total weight (CTTW) engagement ring for $1,399.99? EXCELLENT VALUE
All of the information about this ring is clear and accessible on the listing and includes detailed images of the product and GIA certification or certificate of authenticity.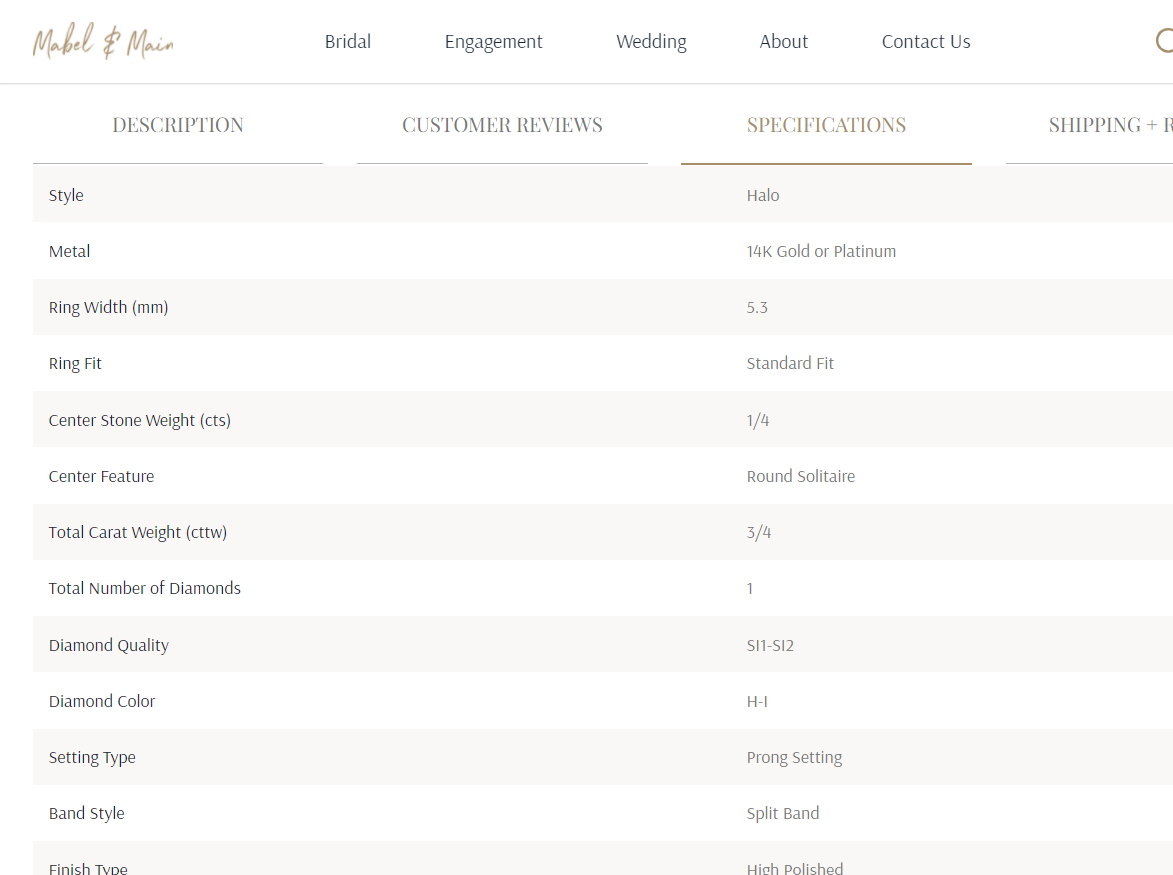 What do the product images look like? Is the website using stock images to showcase their products? Or are the photos blurry and poor quality? When buying something online, you want to be able to see the actual product, not a representation. It should always be a warning sign if the products' images are less than authentic or have few angles available.
Product descriptions? Make sure the quality characteristics such as carat weight, gemstone quality, or gold purity are clearly stated. If the seller is not forthcoming with this crucial information, it could indicate that they are hiding something or not being truthful about their products.
These are just some of the top warning signs when looking to buy wedding rings online. The best policy to follow is to use common sense and to make sure you conduct your own research before purchasing.
What to Look for on a Fine Jeweler's Website
The red flags discussed are things to watch out for that you can see on the website. Now let's talk about what other company and product information you should be able to easily verify on the jeweler's website before purchasing. These are key aspects that if they are not included or explicitly spelled out on the website, you should proceed with caution or, depending on what is missing, run the other way!
Certification of Authenticity: Different companies may have different ways of providing authenticity certification. One way is through 3rd-party certification provided by organizations such as the American Gem Society (AGS) or the Gemological Institute of America (GIA). Another way a company can be held accountable for the quality of their jewelry is through a clearly stated certificate of authenticity by the jeweler that guarantees its gold purity and diamond qualities. A physical copy should also be provided with your ring purchase.
Any type of certification of authenticity holds the seller accountable that the promised quality of the rings they are selling is the truth. If their jewelry is found to not be authentic or up to the standards they advertised, you are then able to take the provided authenticity certificate and report that jeweler with regulating organizations such as the US Federal Trade Commission (FTC) and gives you a course of action to take against the jeweler.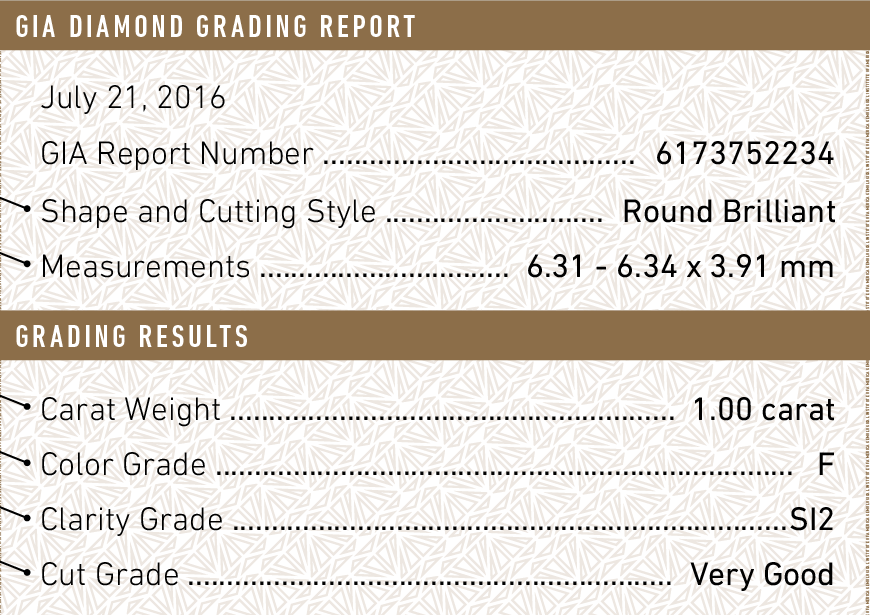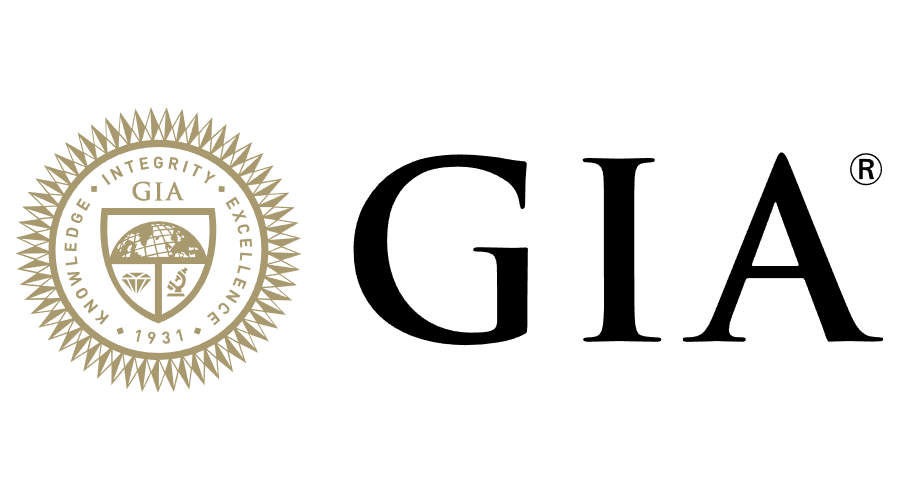 Customer Reviews: Always check for customer reviews, whether that is on the jewelers website or a 3rd party website such as Google reviews or The Wedding Wire are great resources. If you can't find any reviews or information about the online jeweler, that can be as much of a warning sign as bad reviews. In addition, showing nothing but glowing, positive reviews can also be indicative of inauthenticity. Things don't always go perfectly and when they don't, it's important to see how the jeweler takes action to resolve any problems a customer had.
Product Guarantees: When you are spending a great deal of money on something as valuable and important as wedding rings online, you want to make sure that the jeweler backs their products and puts customer satisfaction first. You not only want to investigate their return policy but also their product warranties. If there is no mention of either of these or if the policy is no returns or guarantees, you probably want to look elsewhere for your rings.
Company Legitimacy: Investigate the jeweler's website. Look for key indicators that they are in fact who they say they are, such as:
"About Us" page with a history of the business
Grammar and overall professionalism of the website
Company address
An easily found 1-800 number and/or other means to reach an accessible customer service member
While this is not an exhaustive list, this is a great place to start in determining whether or not an online fine jewelry company is reputable and providing the diamond engagement rings or gold wedding bands they are advertising.
To Buy Online or Not to Buy?
All these warning signs and suggested steps to take to safely purchase wedding rings online seems like a daunting task, so why bother? Why not just go into a store for these very special pieces of jewelry?
Benefits of buying online:
Larger Selection: Due to lower inventory cost and storage restraints, most brick-and-mortar jewelry stones are not able to carry as wide a selection as you will be able to see in an online store. Plus, when online jewelers don't have to worry about on-hand inventory, they are able to offer a wider range of designs and styles. Jewelry stores are more limited to what they are sure they can sell since they need to move inventory quickly. If you're looking for something more unique, online is the way to go.
Better Prices: Because they don't have to worry about the cost of running a physical location such as rent, utilities, sales staff and upkeep, online jewelers are able to offer the better prices than a brick-and-mortar store.
Easier Competitor Research: When buying online, you can simply open up another tab on your browser to look up styles and prices of another online seller. This makes research and comparison easy and ensures you are getting the ring you love at the best value.
Convenience & Comfort: When buying online, you can sit, kick up your feet, pour that glass of wine and enjoy the experience without the pressure of a salesperson trying to make a commission or the added effort of driving around to different stores. However, if you do need help with your purchase, reputable online jewelers will have an accessible concierge service to help walk you through any purchase or questions you may have. It's the best of both worlds!
Payment Options: These days, making purchases online have never been more flexible. When you buy in a store, your options are limited to cash or card, while many online retailers now accept alternative payment methods such as PayPal, Layaway, and financing through companies such as Affirm. These options are especially helpful when looking to buy high ticket items such as wedding rings online.
It's no secret that online shopping has been gaining traction for years and for good reason – comfort, convenience, better prices, great selection – but the internet hasn't been the first place people go to for buying fine jewelry. However, it doesn't have to be that way. By following the above tips, staying vigilant, and conducting a bit of your own research, all the benefits of purchasing online can be had buying wedding rings online, too.
Ready to start browsing styles?
---
---
Written by Kelsey Forrest