When we set out to make a bridal jewelry line that was exclusively plus size, we wanted to do it right. So much had already been learned from the couples at our sister brand, My Trio Rings, to know that making rings for larger fingers meant more than simply adding metal to the band to create the size. It quickly became clear that to truly serve these marginalized couples, we had to go back to the drawing board. A new approach, even to classic styles, was needed with plus size in mind from the initial concept stage all the way through to the materials it was crafted in. We had to, quite literally, break the mold and start fresh. So that is exactly what we did.
---
Designing Plus Size Rings
The biggest mistake other jewelers have made when attempting to craft for larger fingers is assuming any style can be made as a large ring. Most have tried to add metal to the back (and custom fees) and offer it to couples as bespoke. But that couldn't be farther from the truth -- to create rings that are authentically plus size, you must start with the design.
For starters, all Mabel & Main rings are designed "on paper" in a size twelve, as opposed to the industry "standard" size seven. When size isn't the afterthought, styles won't be stretched or lack diamond coverage when sized up or down. Once our designers leaned into this base size, it was time to consider the important factors our prior plus size couples from My Trio Rings had shared.
When creating rings with more width to for a fuller fabulous look on larger fingers, it was discovered that tapering the back of the band made it much more comfortable for the inner knuckle without compromising the overall look. This tapering edge also helps to prevent the ring from spinning around the finger, potentially hiding the main feature.
Something you wear on your hand day-in and day-out must be able to withstand bumps and pressure of daily life. The band can't distort, and the diamonds can't be falling out, as is common with post-crafting addition of metal onto a ring. We focused on secure settings for the different shapes and sizes of individual stones and on the strength of the wedding bands' cross section. Instead of creating rings that were heavy with added metal for durability, we designed ornate galleries on the interior surface which offered not just an aesthetic, but an addition to tensile strength of the band.
While creating a plus size engagement ring with a thicker band works well on larger fingers, it's not the only way to add width to styles. Many of our rings were designed with stackability in mind, making them easily pairable with one or more wedding bands that, worn together, create a fuller look. Some of our styles have a matching, contoured band that fits flush with the engagement ring, such as our Jaya Bridal Set. Others leave space for stacking a simple, single row band on one or both sides of the engagement ring, like our Misty Bridal Set. This approach allows for flexibility for the wearer to choose how to style their rings based on preference and comfort.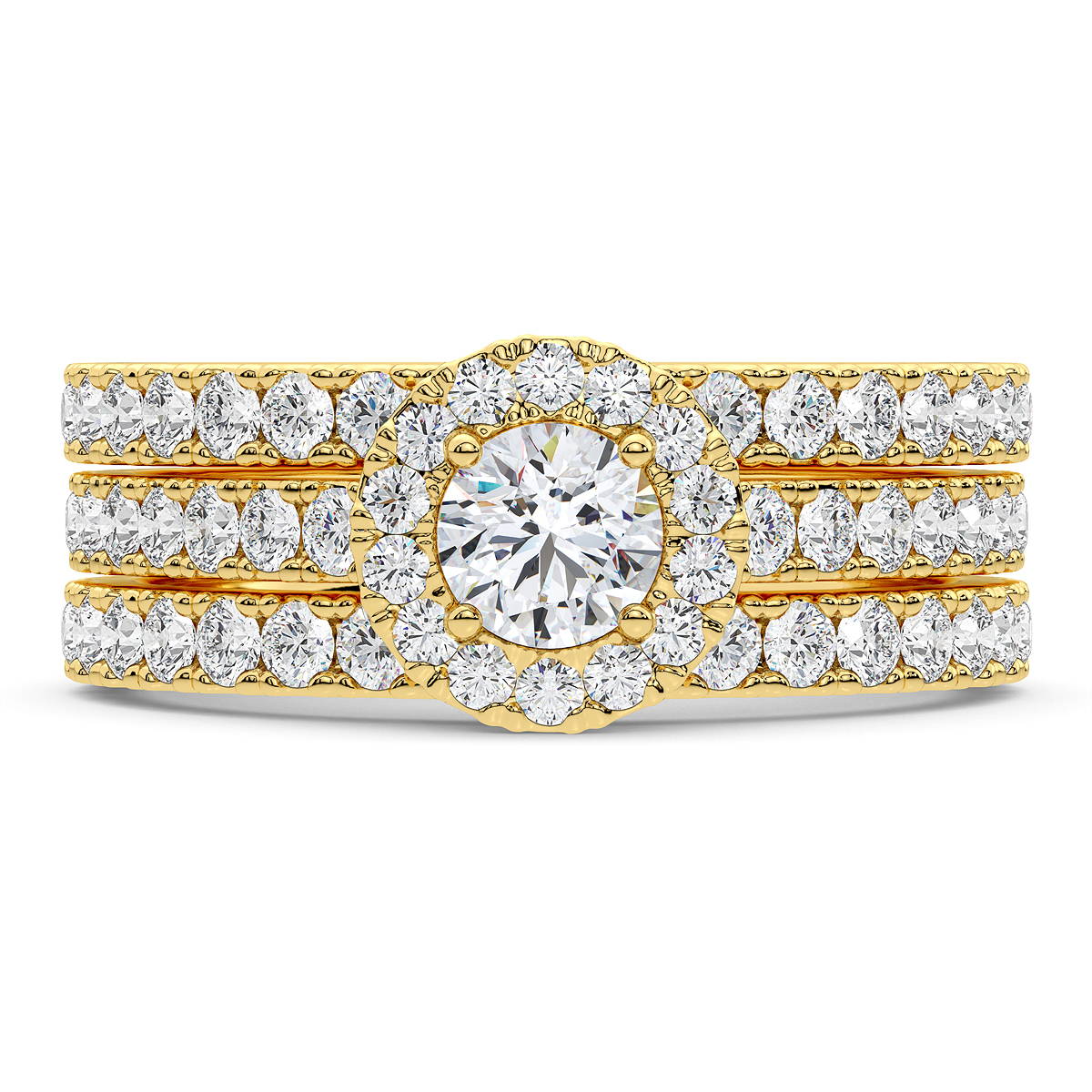 One of the detriments to simply sizing up a ring originally as a size seven, is the loss of side diamond coverage. When a jeweler modifies a smaller ring by stretching it to a large ring size, they expose the sides of the band towards the front – where there won't always be diamond coverage as intended by the styles original inspiration. That is why when designing our rings at a size twelve, we ensure that the diamonds go down 60% of the shank so that no matter what size it is, there is full coverage.
---
When designing our rings, we didn't cut corners or take any shortcuts. Our authentic approach starts when our Head of Merchandising, Ally Davis, first conceives the idea for a new style and continues through the crafting process.
When crafting rings for plus size couples we knew that there could be no skimping on the quality of materials used. Through customer feedback, luxury quality jewelry was at the top of the list of wants, but only if it carried style, functionality, and affordability.
All of our diamonds fall within the G-H color scale and are of SI clarity to ensure the rings exude a fantastic sparkle.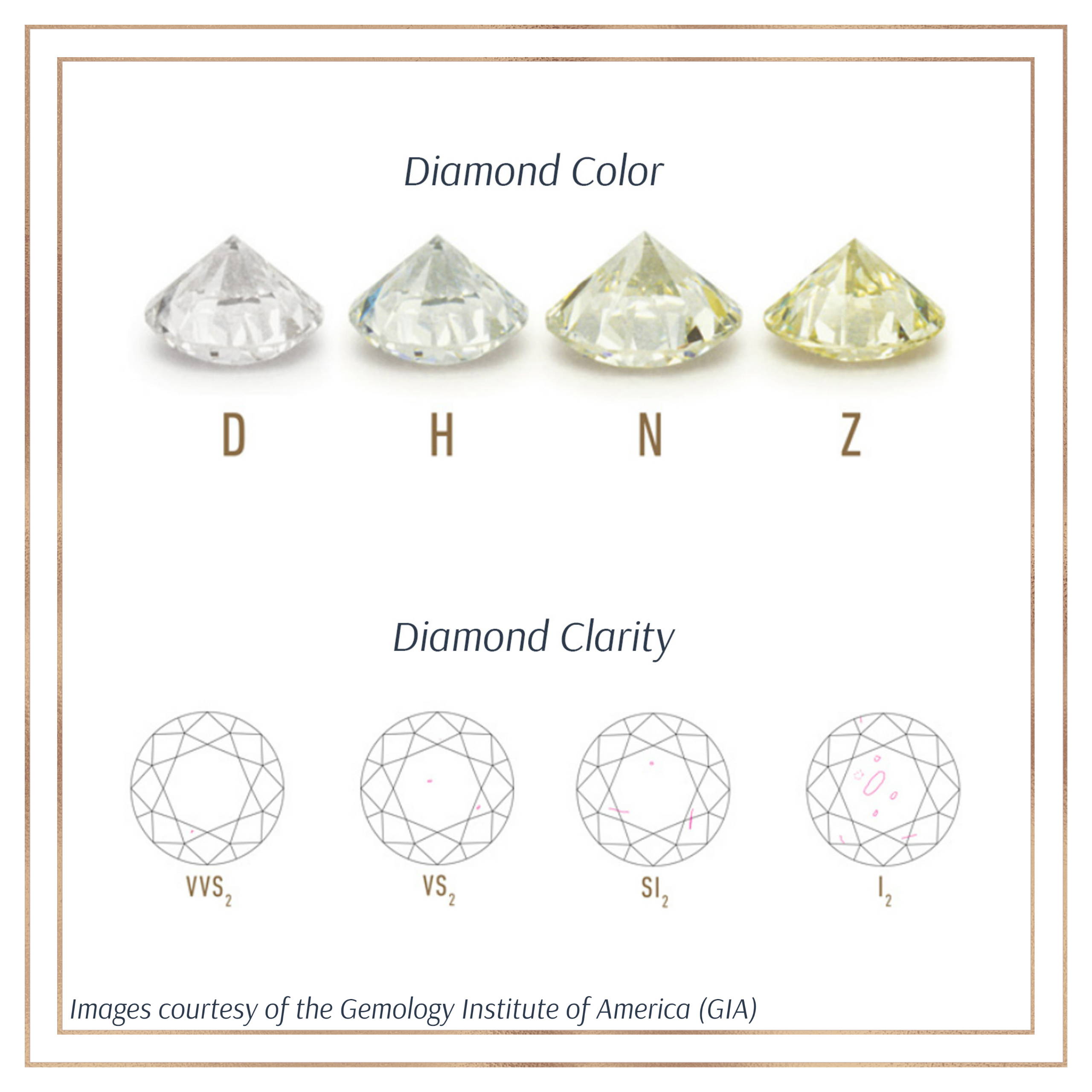 These stones look amazing when set in rings and allow us to keep prices reasonable while still offering quality jewelry. Our certified gemologists personally select the perfect size and quality stone that balances the final look and price of the ring style you choose, guaranteeing a truly unique and beautiful ring.
We provide our couples with the choice of a timeless gold or a modern highly durable platinum metal, are always nickel and lead free.
Our gold option is offered in 14 karats to balance purity with durability. Purer gold karat compositions for 18K and 22K are too soft to be used in durable jewelry that can be worn daily. Along with the standard yellow gold, we also offer rose and white gold.
Our Platinum offering is for those looking for a touch more durability and luxury quality. Platinum is a slightly heavier metal than gold, which some of our couples preferred, while others liked the lighter feel of gold.
---
Shopping for Plus Size Rings
It's not just about rings, but about the experience from the very start. We heard too many sad stories from couples about hoops they had to jump through, fees they had to pay, and restrictions on warranties and returns when shopping at other jewelers for their plus size rings. This solidified a commitment from the onset to our couples that we would do it differently.
Hearing from our couples it was discovered that so many couldn't even get their finger sized at other jewelers, so we created the first ever extra-large ring sizer to help couples before they even started shopping. Going up to a size 24 and delivered to a couple's doorstep, free of charge, that hurdle was effectively removed.
Then we tackled the unfair retail price markup and special "sizing fees" for rings over a size 10. Instead, through our online, direct to couples, and exclusively plus size approach, our rings became size- and price-inclusive. A bride or groom will never be charge extra for their size. Knowing that payment options for our couples was also important, Mabel & Main launched out the gate with Affirm Financing along with convenient and safe options of any major credit cards and PayPal.
But what about after the ring is purchased? Shouldn't a ring that symbolizes the lifetime of love have a lifetime of coverage? Oftentimes, if plus size rings are "custom made", jewelers do not accept returns and sometimes won't offer the standard warranty. In addition to our crafters warranty, we offer lifetime protection in collaboration with Extend, protecting your ring with fast and free repairs, accidental damage, wear-and-tear protection, and even ring resizing and repolishing!
We believe in providing the best possible buying experience, from picking out the perfect ring, to purchasing with options and post-purchase care and protection. Such a momentous purchase and the time it signifies in your life should be celebrated and feel wonderful. Not scoffed at or judgmental.
In 2017, when Full Brilliance plus size collection was launched at My Trio Rings, we had no idea the impact it would make for couples from all walks of life. It was through their stories, feedback, and inspiration that we decided Mabel & Main was a brand that we had to create. And so, starting from scratch, we built a brand that we are not only proud of, but learning from each day. We are honored to have served thousands of couples, but even more excited by this new opportunity to serve an underserved, and often marginalized community that deserves so much more!"
---
---
Written by Kelsey Forrest