A Plus Size Bridal Jewelry Brand
For years, modern society has acknowledged the lack of support for folks of a larger size. In the retail world especially, merchants have shifted their strategies to embrace plus size customers, investing in products that show every customer they are valued, regardless of their size.
The fashion industry has adopted a broader mindset as well, focusing on non-standardized body types and designing for diverse tastes and sizes.
Yet despite such advancements, the jewelry industry in particular has coasted through with little to no change. Style development for women's engagement rings is still done in size 7, a standard that seems to have stuck for the sake of convenience, and directly reflects a lack of consideration to changing standards.
Style development for women's engagement rings is still done in size 7, a standard that seems to have stuck for the sake of convenience, and directly reflects a lack of consideration to changing standards.
A quick search on google shows numerous top jewelers advertising "Plus Size Engagement Ring" offerings, but these fall short when they end up dumping site visitors into their general category.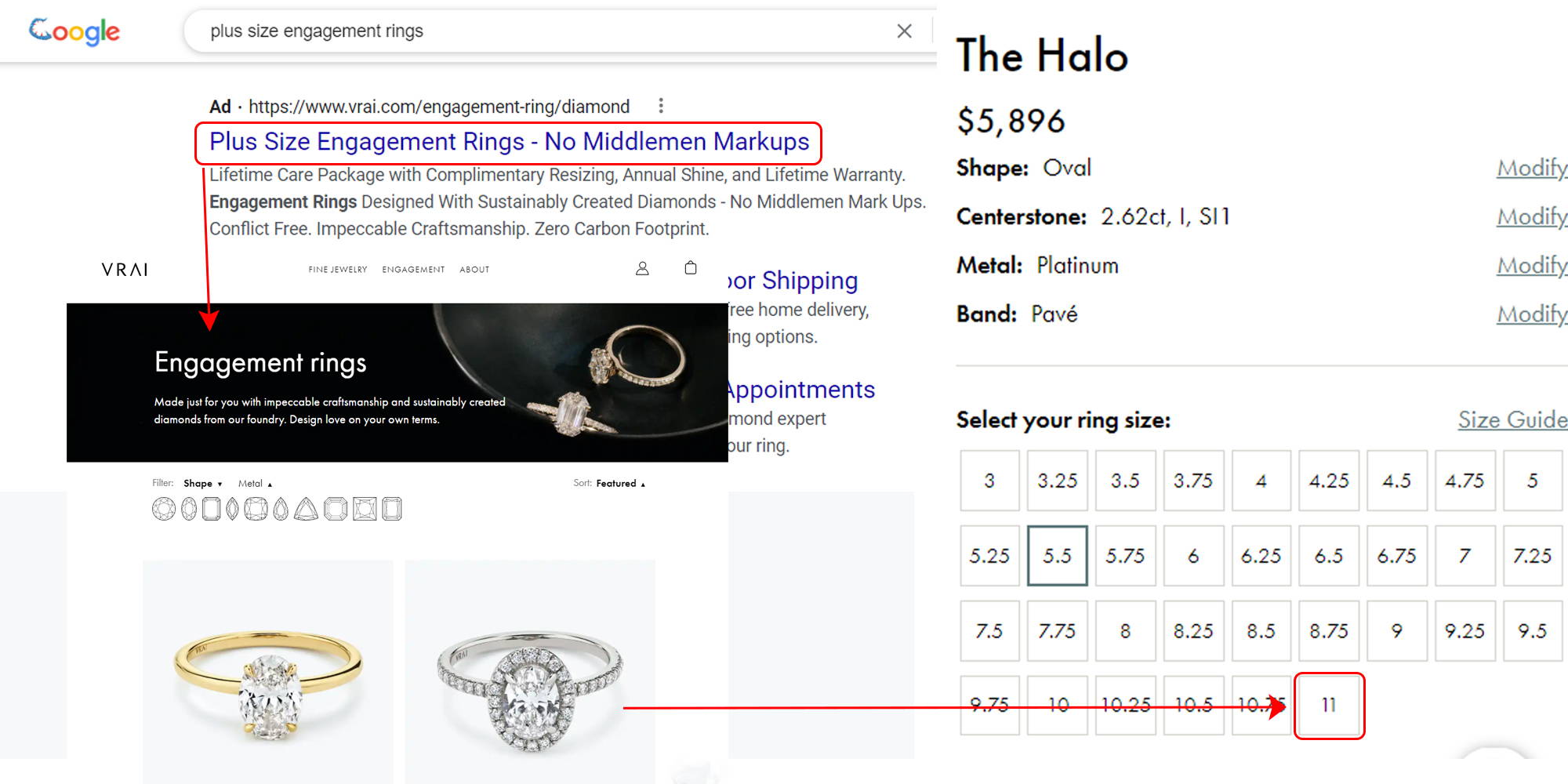 Our society has a more diverse range of sizes, and while "one size does not fit all", has been dubbed a cliché, it appears options available to brides and grooms are not quite as common as the saying.
| | |
| --- | --- |
| As of June 30th, 2021 | Largest size on-site |
| | |
| | |
| | |
| | |
| | |
Main street or Mom & Pop jewelers typically offer limited size ranges (sizes 5-9) in store. This is due to the inventory costs of holding a larger assortment and greater volume, along with the lack of availability from the wholesalers and distributors they purchase their jewelry through.
Serving a larger size takes an enthusiastic & authentic commitment - it involves more than simply adding additional material. It takes careful consideration of the design's intended look and how it would scale to different sizes. Furthermore, a plus size body type does not mean a plus size finger, and a larger finger doesn't mean a plus size body shape. Assumptions have to be thrown out the window when designing wedding rings for a larger size.
Our designers and merchandisers, many of whom identify as plus size, assembled the designs they loved most and redesigned them from a size 12 base. This process was structured to embrace the original design inspiration, but to also incorporate characteristics that are often overlooked when designing in a "one size fits all" approach.
Among a few of the purposeful design attributes, diamond coverage was revisited, ensuring ample sparkle on the sides of rings. Ring widths were also increased & comfort tapers were introduced to ensure a comfortable fit.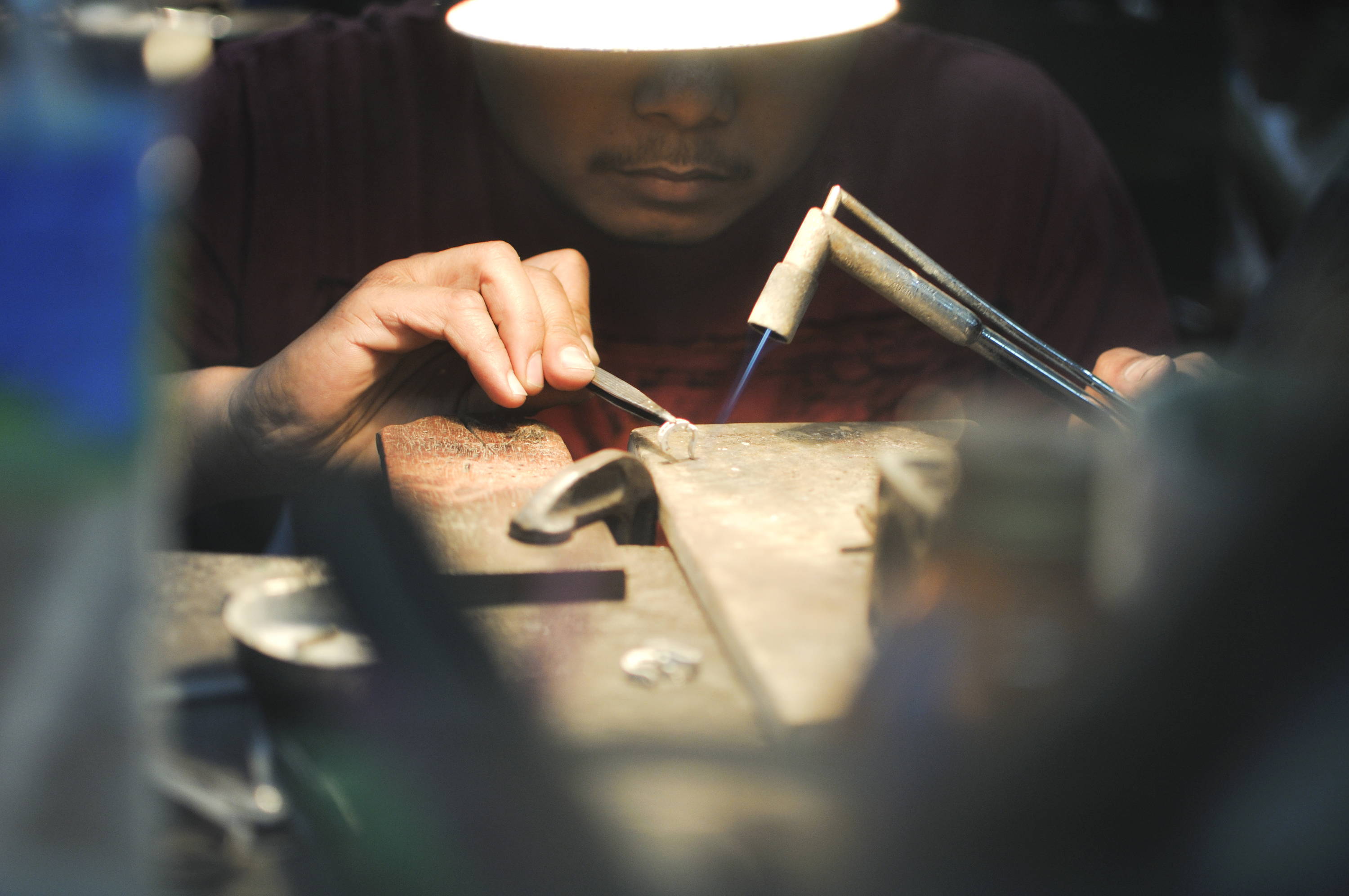 Ensuring no corners were cut in the development process, we also leveraged our strength in the diamond industry (4 generations of it!) to ensure our supply chain placed quality at the forefront. All styles are caste in nickel and lead free metals.
For our launch, we've focused on natural, conflict-free diamonds, and plan to expand to additional gemstones and lab-grown diamonds in the near future. Additionally, all engagement rings are accompanied by Certificates of Authenticity, which provide an additional assurance of the qualities and authenticity we carry.
You won't find gimmicky sales tactics or sizing fee runarounds at Mabel & Main. No bride will ever be charged more because of her size.
We've set out to serve our couples with authenticity and this carries forward to our pricing commitment - to provide the best price possible for the styles you covet in the sizes that fit.
---
Mabel & Main is the brainchild of the team at My Trio Rings, a bridal jewelry destination established in 2009 that provides hardworking couples with access to affordably priced authentic diamond matching wedding rings. Throughout their first few years of serving couples, My Trio Rings discovered an entire customer base that was being underserved simply because of their finger size. The team then launched the first plus-size collection dubbed the Full Brilliance Collection in 2017. But we knew we could do better. Having served thousands of plus size couples over the years, our team of designers carefully curated designs that expand upon our original approach, with a more diverse collection of styles and options to choose from.
As of our launch, Mabel & Main is proudly the only jeweler to focus exclusively on serving plus size couples.