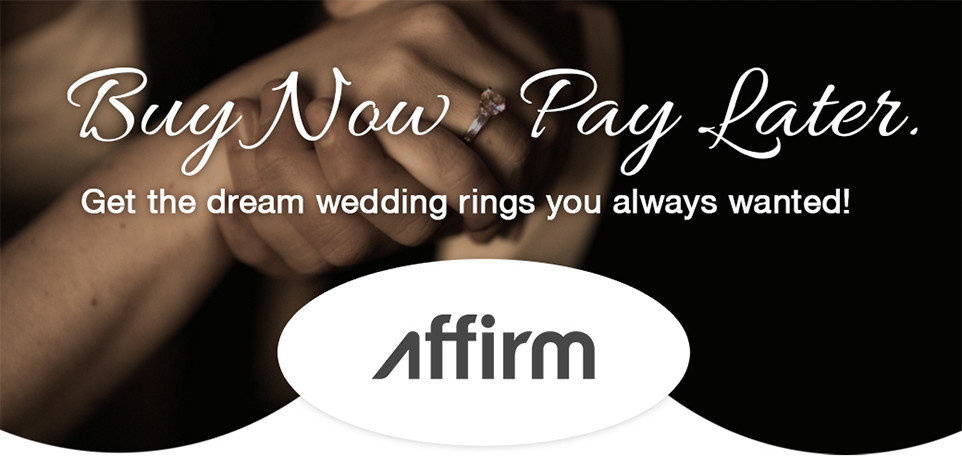 Pay over time, on your terms
Buy your Mabel & Main purchases with Affirm - and pay off your purchase in easy, fixed monthly payments between 3, 6, 12, 24 or 36 months with APR rates of 0% APR or 10-36% APR!
Experience true freedom by paying over time
Mabel & Main is partnered with Affirm to bring you more purchasing power. Affirm is an easier, faster way of payment for your new rings over time. Leave the card in your wallet, because when you choose to buy with Affirm, you can get your order now and split your purchase total into multiple budget-friendly payments.
Your Affirm account is created using your name, email, mobile phone number, birthday, and the last 4 digits of your SSN. This combination helps Affirm verify and protect your identity.

Checkout is easy. Just select Affirm and enter some basic information for an instant loan decision.

Your account stays secure, no credit card numbers are stored or exchanged.

Pick a loan that fits your budget. Choose from options of 3, 6, 12, 24, or 36 months.

Your loan is complete and Mabel & Main processes your order immediately if approved.
---
Affirm has a dedicated team in San Francisco at Affirm HQ, ready to answer your questions and help you out however they can.
For more information visit Affirm's website or contact Affirm at help@affirm.com or call (855) 423-3729
Rates between 10-36% APR with a promotional rate of 0% APR for qualified customers. Subject to credit check and approval. Down payment may be required. Payment amount depends on your purchase amount. Estimated payment amount excludes taxes and shipping fees. Previous purchases are not eligible for offer. Payment options through Affirm are provided by these lending partners: affirm.com/lenders.
---
What Information does Affirm require?
Your Affirm account is created using your name, email, mobile phone number, birthday and last 4 digits of SSN. Affirm requires that this information must belong to you and no other individual and helps Affirm verify and protect your identity.
Does Affirm perform a credit check?
Yes, when you first create an Affirm account, Affirm performs a 'soft' credit check that should not have an affect on your credit score so you can see exactly how much you're approved for. If you choose to confirm a financing offer, Affirm will perform a one-time annual 'hard' credit check when a merchant processes your order. This 'hard' credit check will have some effect on your credit score.
Why was I prompted for a checking account?
Affirm sometimes needs more information about your financial situation to evaluate your loan application. Verifying an online checking account helps Affirm determine your ability to repay a loan. Affirm does not store your online login credentials; they simply pass them on via a secure service to link your checking account.
Why was I prompted to pay a down payment with a debit card?
Affirm isn't always able to approve financing for the full amount of the purchase. When this happens, Affirm provides a debit card down payment option so that you may still complete your purchase right away
The annual percentage rate (APR) on an Affirm loan ranges from 0% to 36%. Affirm discloses any required fees upfront before you make a purchase, so you know exactly what you will pay for your financing. You'll see the amount of interest you'll owe on the terms page and again on the loan confirmation page. If you pay off your loan early, you'll receive a rebate for any interest that hasn't yet accrued. Affirm does not charge any hidden fees, including annual fees