Our newest influencer collection was inspired by not just an inspirational voice within the plus size community, but she is also a Grammy-recognized Latina singer-songwriter. Her authentic voice and talent for storytelling is taking the music industry by storm as she empowers and inspires women to be their most authentic selves. We are thrilled to announce our partnership with Elle Baez in the creation of the Flair Collection!
Elle has been making her mark on the music industry by being her bold, beautiful self since her first single, "Your Lips", dropped in 2019. Since then, she has amassed a dedicated following including her 54k TikTok followers, as she spreads body positivity and self-love. Elle has continued to put out track after track of authentic, innovative pop-soul music that you can't help but relate and bop along to. Coming off her "Divinely Empowered" tour sponsored by VS Pink and opening for Bea Miller at the VS Pink x PopSugar show in September 2022, Elle has worked with us to create a truly one-of-a-kind fine jewelry accessory line – The Flair Collection!
When we first met with Elle to discuss a possible collab, the authenticity and positivity that shines through her social media and music was paltry compared to the beautiful, bright soul we had the pleasure of speaking with. It was exciting to talk with yet another influencer in the space that believes as we do, that body positivity is not just a fad or trend, it is a movement. We couldn't wait to get started designing for her, especially when she mentioned that her current favorite color palette consisted of pinks, oranges, and yellows.
Elle's style is not one that would see her quietly hiding out in the corner. Browsing her Instagram and seeing her love of bold designs, bright colors, and big, statement-making accessories created no lack of inspiration for our head of merchandising and designer, Ally Davis. It quickly became clear that Elle's line would need to go beyond sparkling white diamonds and the decision was made to include pink and yellow lab-grown sapphires, marking a first for Mabel & Main.
It was important to create a line of accessories that not only captured Elle's unique vibe but would also include something for everyone. To that end, the Flair Collection includes five earrings, one pendant, and one ring. In addition, each is also being offered in four color variations – all diamonds, all pink lab-grown sapphires, all yellow lab-grown sapphires, and a combination of diamonds and lab-grown pink and yellow sapphires.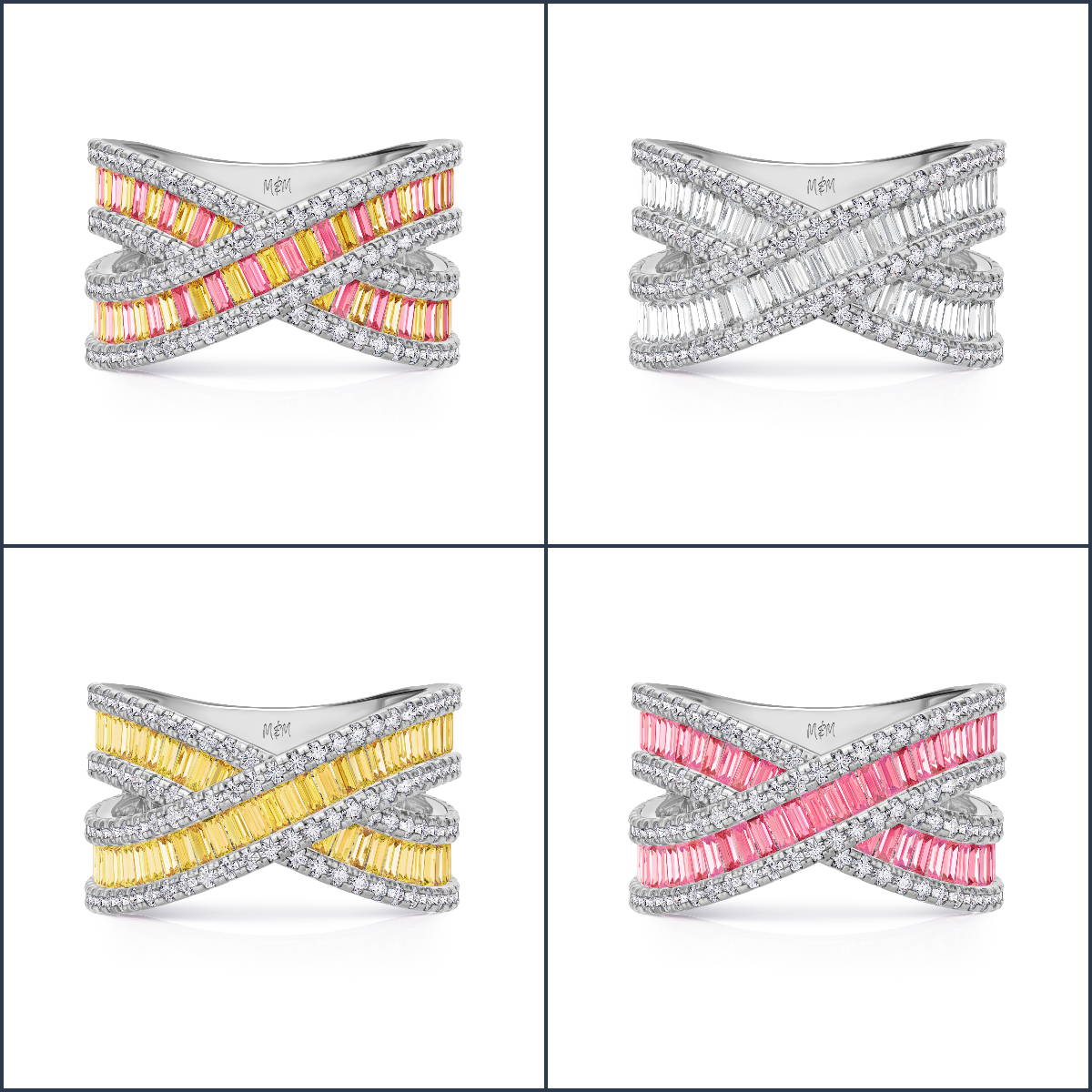 The 1 ½ CTTW Flair Ring features two crossing bands of baguette stones outlined in two rows of smaller round diamonds. Designed with comfort and durability in mind along while also ensuring maximum bling coverage with the stones going down 60% of the shank. All Mabel & Main rings are available in sizes 9-20.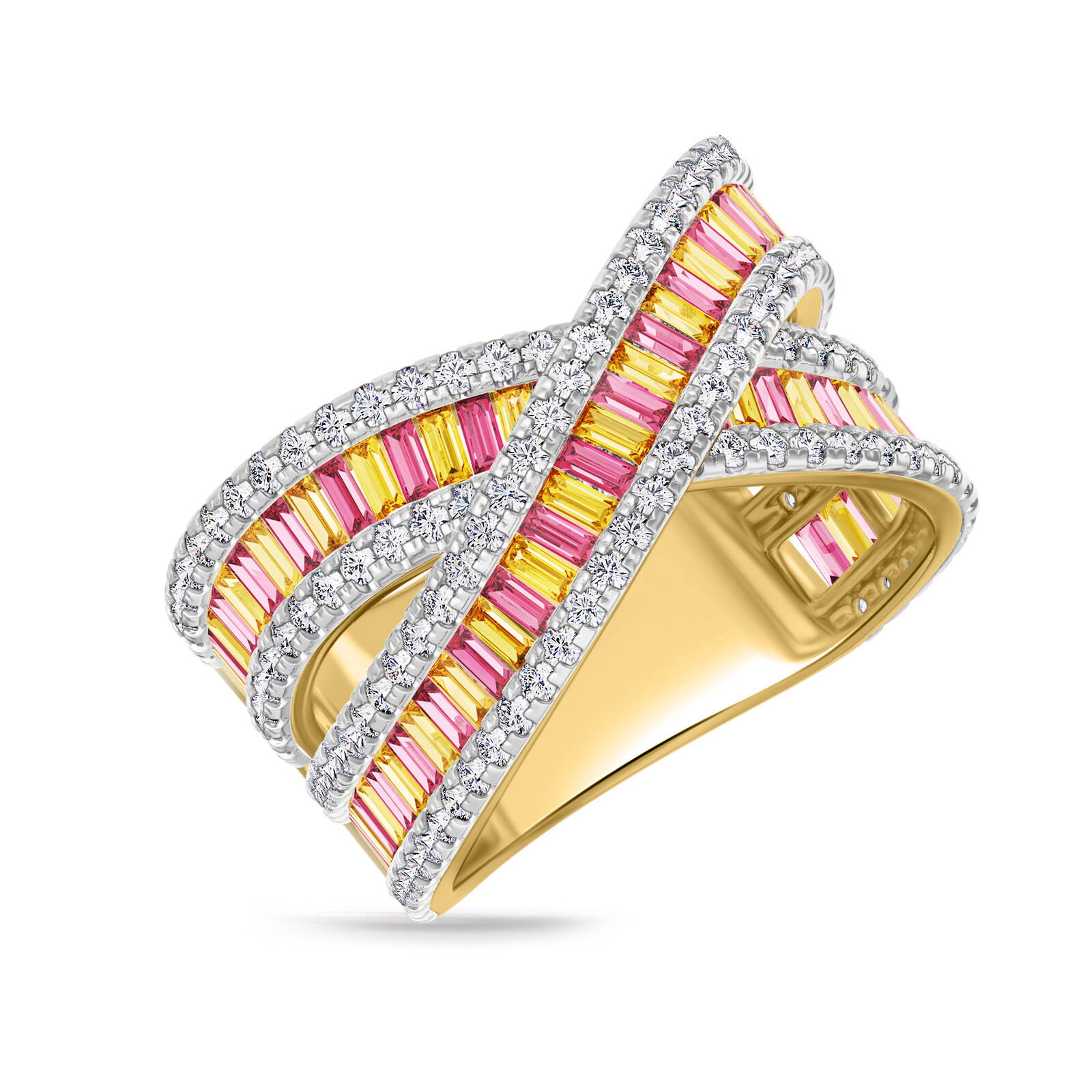 The gorgeous, ¾ CTTW Flair Pendant continues the outlined baguette style seen in the ring. A wide bail keeps the pendant from twisting and tangling while adding to the look with a delicate filigree design on the back. Each pendant hangs from a simple box chain of 18" plus a 2" extender for the perfect fit every time.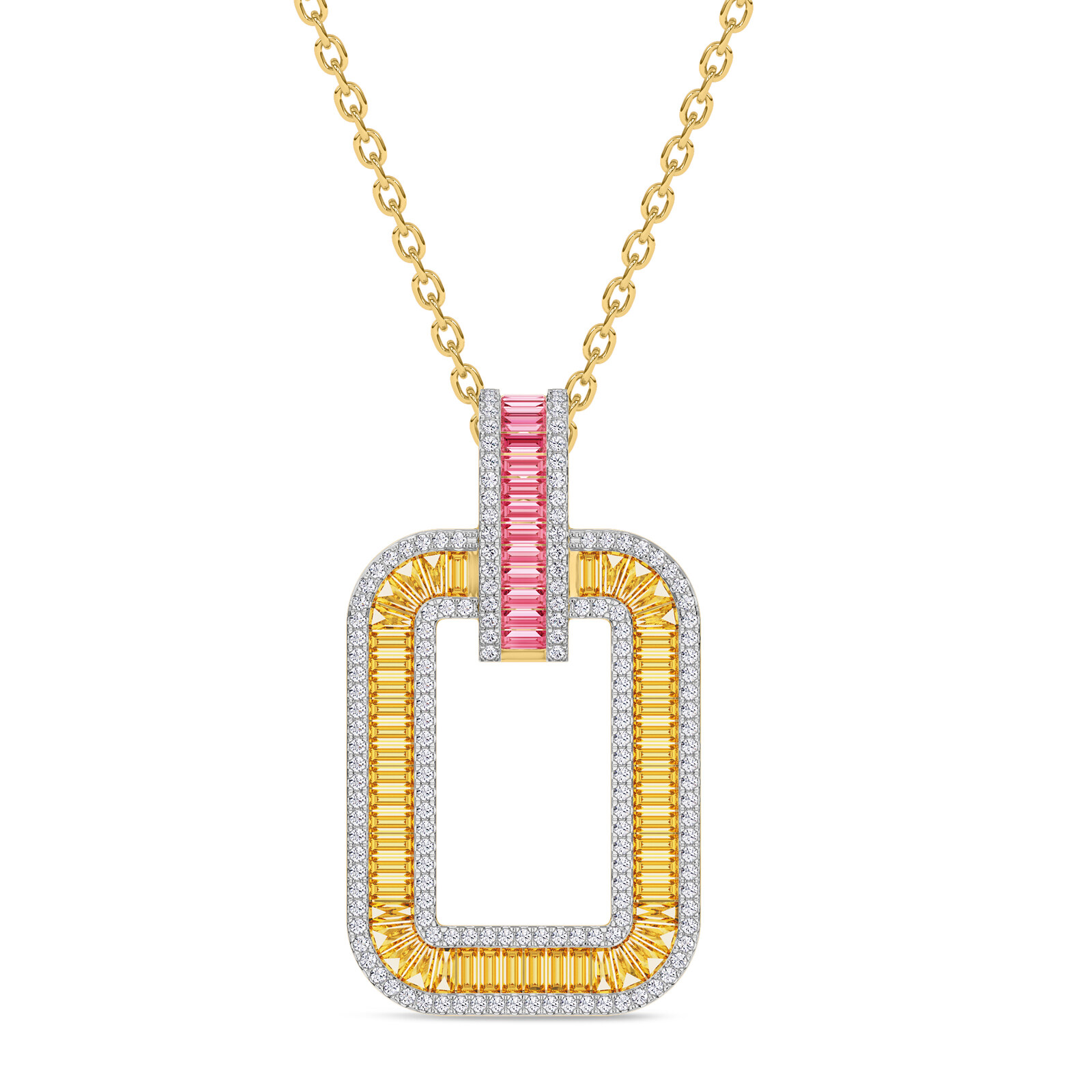 As mentioned, the Flair Collection features five different earrings styles. Four of these styles offer an innovative way to achieve maximum versatility by allowing the wearer to add and remove elements when purchased as a complete set. When bought together, each piece can be broken up to make smaller stud earrings, huggies, or a slightly smaller version of the original full design, creating four unique styles that will have you covered from a casual luncheon to a spicy night on the town. In addition, you can purchase each piece separately with the option for building on later or keeping a simpler look.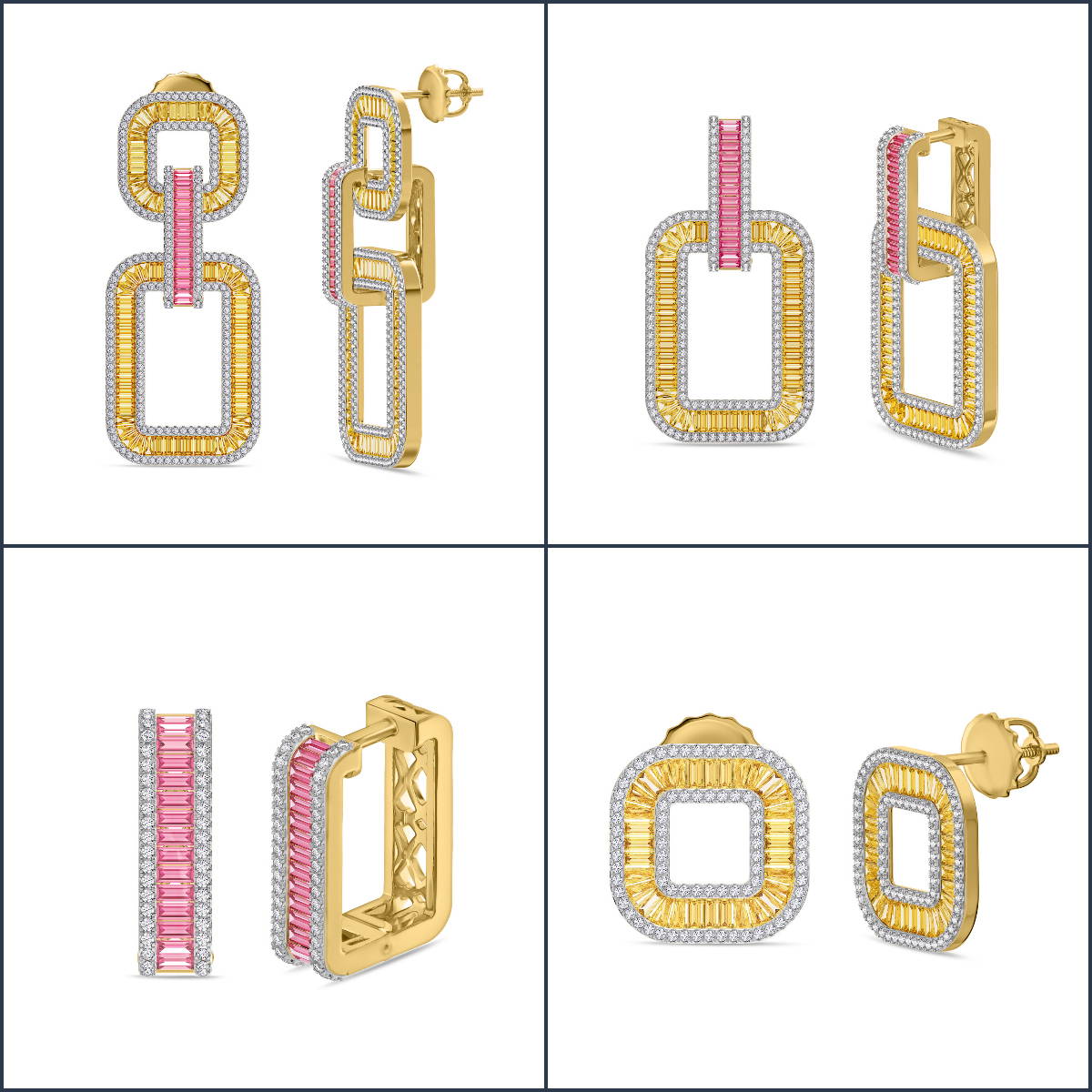 The final earring style was inspired by Elle's love of big, bold hoop earrings. Approximately 1" wide, these 1 CTTW inside-out hoops are a definite showstopper, featuring stones along the inside and outside of the hoop and a filigree gold design. A hinged backing provides maximum security, keeping the earring safely in place.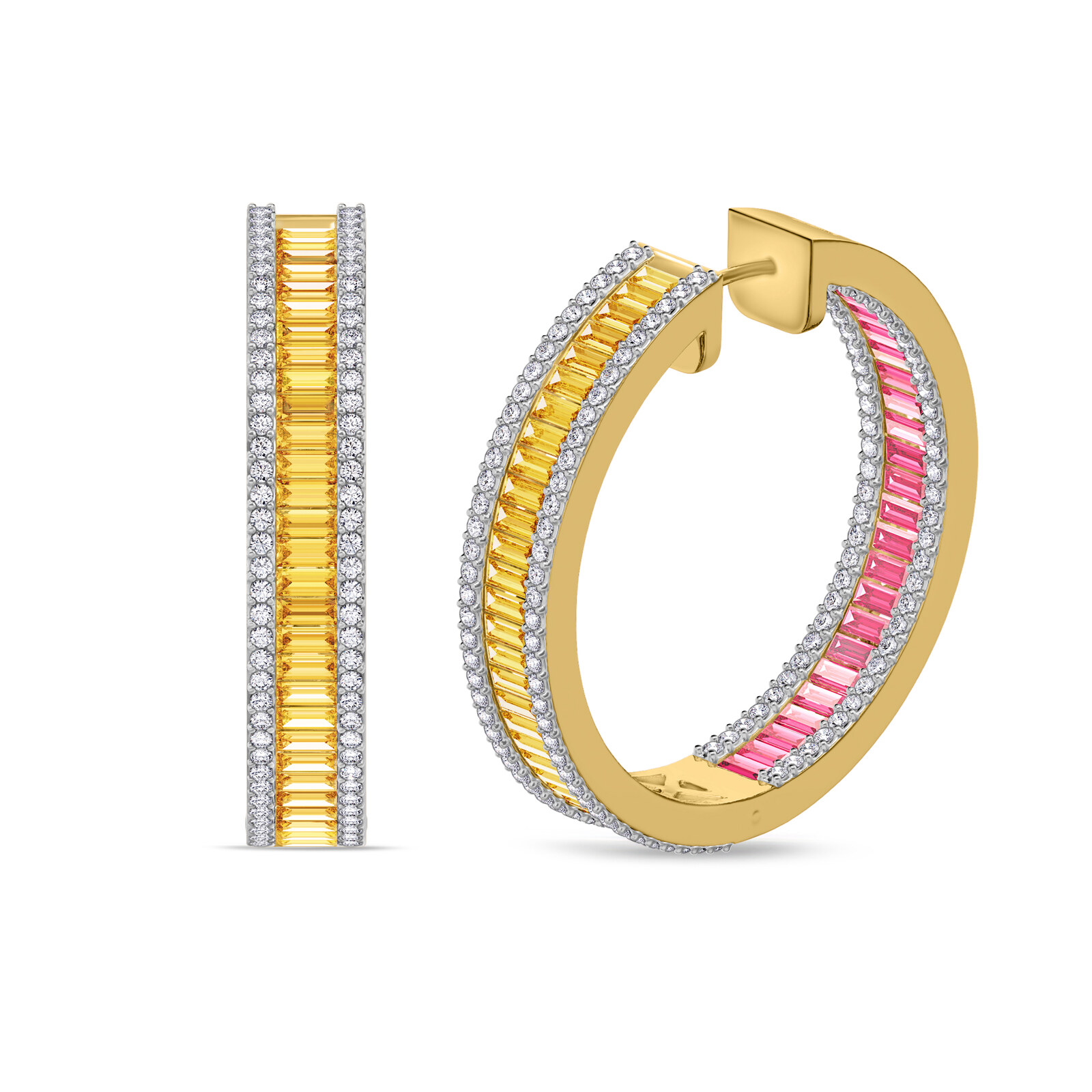 The Flair Collection came with many firsts for Mabel & Main and we are so excited to finally be able to share these beautiful designs inspired by the talented Elle Baez. All pieces from the Flair Collection are available in 10K and 14k white, rose, and yellow gold and can be purchased in three different stone color variations – all diamond, yellow lab-grown sapphires, pink lab-grown sapphires, or a combination of all three.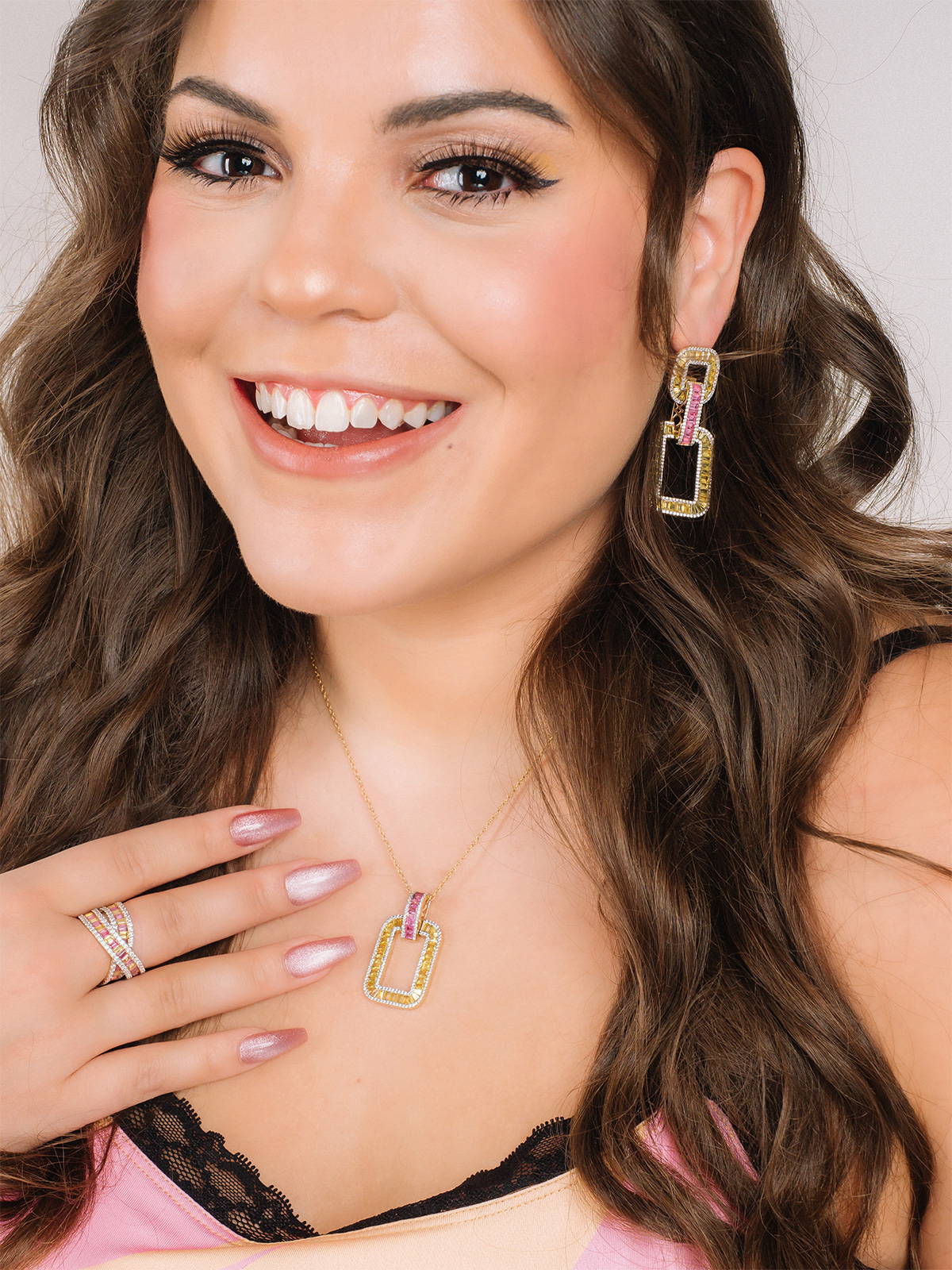 ---
---
Written by Kelsey Forrest