Pay over time with no fees.
Your rings ship once all payments are made


Layaway rings online to lock in the price.
No credit check, no fees.
Weekly, biweekly, or monthly payments scheduled automatically to your debit/credit card.
Up to 12 month plans available
Partial.ly Portal - Manage your schedule, payment card, or ring styles online.
Looking to finance? Visit Buy Now and Pay Later!
Preview Your Layaway Plan
How to Layaway Your Purchase
Simply select "Layaway powered by Partial.ly" in cart and complete your purchase through the Partial.ly portal.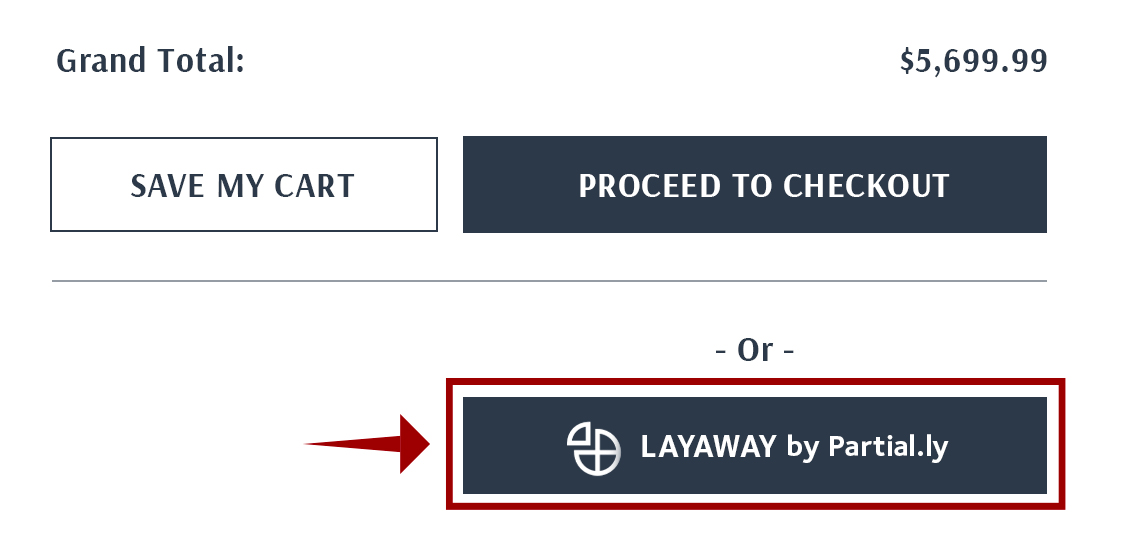 Partial.ly Layaway Program Terms


Schedule
Layaway plans must be paid off within 12 months. However, you can modify your scheduled payments at any time to fit your needs within this time frame.
Completion
Rings are crafted 3-4 weeks in advance of your final payment date. Early payoffs may require additional crafting time - you must inform us of anticipated early payoffs through your layaway manager for an updated shipping date.

Cancellation
Notice of cancellation must be given at least 1 business day prior to your next scheduled payment through your Layaway Manager.
Upon cancellation of a plan, 75% of payments made are refunded. The remaining 25% is non- refundable, but can be applied as a courtesy towards any new order placed within 6 months of the cancellation date.
Orders where no payments are made in 6 months will be considered abandoned, cancelled, and cannot be refunded.
Q: How do I buy on Layway?

A: Simply select "Layaway with Partial.ly" in cart and complete your purchse through the Partial.ly portal.
Q: Can I pay more?

A: Within your Partial.ly portal dashboard, select "Make a Payment" to make additional payments or pay off your balance. Please see our terms above on layaway plan completion.
Q: What if I miss a payment?

A: Our system will retry any scheduled payment three times before marking the payment as "Defaulted". You can view your defaulted plan in your Partial.ly portal under 'Other Payment Plans'. You will see the option to pay the remaining balance due on the plan.
Q: Can I restart my defaulted payment to the original payment schedule?

A: If you are ready to restart and can pay in full, you can do so directly through their Partial.ly portal. If you need to create a schedule for the remaining balance, please contact Mabel & Main Customer Support.