Wedding rings are a symbol of the eternal love and commitment between you and your partner. They are also the most eye-catching part of your wedding ensemble as they sit, sparkling atop your finger proudly on display for all to see. While choosing an engagement and wedding ring can be a daunting task with all the options available today, it can also be a fun process. For anyone with plus size fingers, there are many options that can make this an exciting journey!
When thinking about plus size ring styles, there are certain features you want to look for. For example, larger hands tend to be wider than they are long, so anything with an open or rounded band is going to sit nicely on your hand. Styles with thicker bands show less skin and therefore make the focus on your ring rather than having it get lost and look smaller than it is.
Whether you are looking for large wedding rings due to wide fingers, big knuckles, or larger hands, there's a style that will look fabulous on you! Below, we'll dive into how you can style wedding rings on a larger finger.
Wide Fingers: thicker bands, wider settings, and bigger center stones will keep the attention on the ring and help to thin and elongate fingers. Ring stacking is a great way to create styles for wider fingers.
Big Knuckles: keep the attention on your ring and not knuckle using eye-catching ring settings such as channel, unique prong designs, and filigree designs, along with round, square, or princess cut center stones.
Small Hands: you want to balance the bling, width, and setting with the size of your hand using smaller round, princess, oval, or heart-shaped center stones. A cluster or halo setting also help to achieve this without needing a thicker band covered in diamonds.
Large Hands: keep the design larger and thicker rather than small and unassuming.
Plus Size Engagement Rings for Wide Fingers
One of the important things to look for is the thickness of the wedding band itself. A thicker band that shows less of your finger next to the ring will keep attention on the ring. Adding stones down the band will increase thickness while also adding extra bling! Another way to increase band thickness is through ring stacking or adding wedding bands around your engagement ring. This technique can be accomplished with a few different techniques depending on your style preference.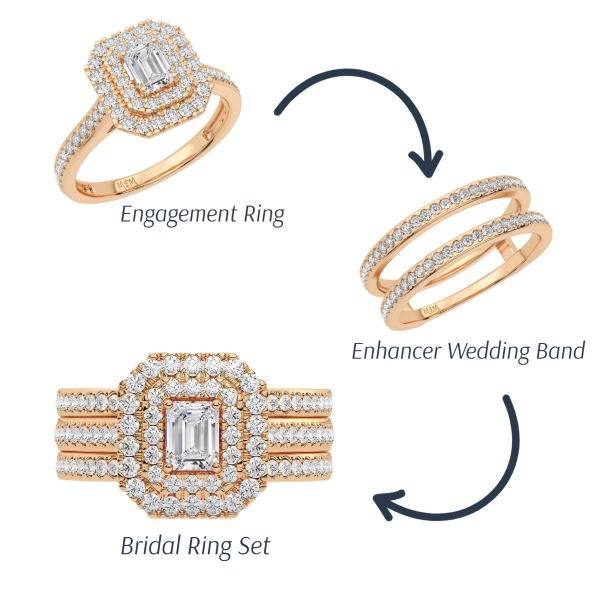 One option is to use an enhancer, also called ring wraps or guards. This type of wedding band is specifically designed to enhance a solitaire engagement ring as you can see with our Azalea Bridal Ring Set featured here. Not only does it add thickness to the design, but it also makes the center stone appear larger while adding some extra sparkle.
Another popular stacking look is using a contoured wedding band. These bands are specifically designed to match the contours of the engagement ring in a seamless fashion, creating a thicker style. The stacking possibilities are endless!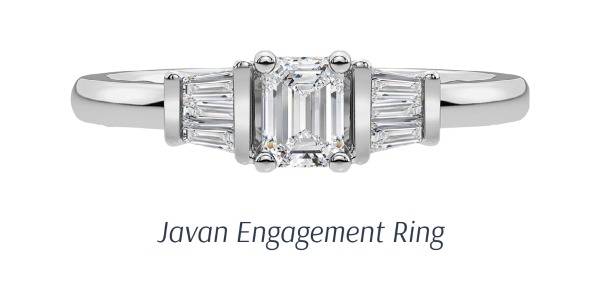 If you don't love the feeling or look of a thicker, decked out band or multiple bands, going with a wide ring setting such as a trilogy or three-stone ring also gives a similar effect. An example of this style is our Javan Engagement Ring.
When looking to the center stone or a plus size engagement ring's focal point, the bigger the better! Halo settings are a great way to enhance the center gemstone without having to spend on a larger center and draws attention to the ring rather than the width of your finger. Additionally, choosing a center stone with longer proportional cuts such as pear, oval, or fancy, will also help to thin and elongate fingers.
Large Wedding Rings for Big Knuckles
When it comes to big knuckles, the key is to direct the eye to the ring, not your knuckle. There are a few ways to accomplish this. Eye catching ring settings such as channel, unique prong designs, and filigree designs put special attention on the ring and away from your knuckle.
When considering a center stone for plus size engagement rings styled for larger knuckles, you want to go with wider shapes such as round, square, or princess. These will balance the knuckle size and keep attention on the ring. Large wedding rings for big knuckles should have the proper balance of increased band thickness, an attention-grabbing center, and a sparkling, eye catching setting. When these features are proportioned correctly, no one will be looking at your knuckles.
When looking at plus size rings, it's also important to keep the full picture in mind and not neglect how the style looks on your entire hand, as well.
Plus Size Rings for Different Hand Sizes
Just because you may have wider fingers or larger knuckles does not mean that you have a large hand, as well. When it comes to smaller hands, the proper proportions of ring features that we discussed are crucial. While you still want to follow the above recommendations, you also want to balance the bling, width, and setting with the size of your hand. Smaller round, princess, oval, or heart-shaped center stones work at accomplishing this very well. You might also want to lean more towards a cluster or halo setting rather than a thicker band covered in diamonds.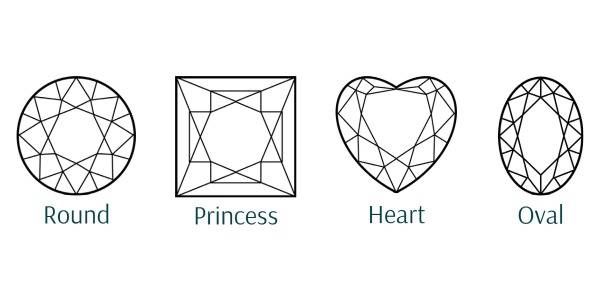 If your hands are on the larger size, you have a big, blank canvas to get creative and try different, possibly more nontraditional styles for large wedding rings. Ultimately, you want to keep the design bolder and thicker rather than smaller and unassuming. Whether that's with a classic, vintage-inspired design with intricate and ornate detailing of the band, or a jaw-dropping multi-halo look with a large center stone, you have a lot of options and room to play and find something that fits your personality and tastes.
At the end of the day, it is important to remember that this ring that signifies the love and dedication you share with you partner has to fit your style and love story. You will know exactly what ring looks best and speaks to you. Start your ring shopping journey with our bridal ring sets, designed exclusively for plus size fingers.
---
---
Written by Kelsey Forrest