Over 40 years ago, Pat Swift, a young woman working as a security guard at Bloomingdale's, thought she was the center of a terrible prank when she was approached to be a model. For the manufacturer of plus size fashions that posed the question, Ms. Swift's size 18 body was perfect just the way it was. Ms. Swift eventually signed on to do an ad as a large-size model. Despite being inundated with calls from other plus size brands, she couldn't find an agency to represent her and decided to start one of her own! And so, in 1978 the first plus size modelling agency, Plus Models Agency, was born.
This was the beginning of a long fight for inclusive sizing and representation within the fashion industry, and it is long from over.
Shopping as a Plus Size Bride
Since the 1970s, the fashion industry has made great strides in offering styles with more inclusive sizing. More size 12 or larger models are now seen on the runway than ever before. More companies and designers have made clothing lines specifically for curvy bodies including the likes of Nordstrom, Wal-Mart, Target, and more. Then, in 2019, the global plus size women's clothing market stood at $178.56 billion with a projected CAGR (Compound Annual Growth Rate) of 4.3% from 2020 to 2028.
These market numbers led to the first plus-size retailer IPO with the 2021 debut of the popular plus size clothing brand, Torrid, on the New York Stock Exchange. By the early afternoon trading on day one of going public, their stock had already surged 20%, a strong start for a specialty retailer serving an underrepresented market space. It seems that finally, the nearly 70% of women who are considered "plus size" by wearing a size 14 or larger are being heard, but the industry still has a long way to go.
In 2019, the global plus size women's clothing market stood at $178.56 billion with a projected CAGR of 4.3% from 2020 to 2028.
One area that has lagged at a staggering rate is the bridal fashion industry. While the average woman today is a dress 14, most bridal boutiques and stores, who already carry a limited number of sizes to try on, only have smaller sizes on the rack. Anyone size 8 or larger is forced to imagine what the dress would look like on her body, because she won't see it in her size unless she purchases the style sized to her.
This turns what is supposed to be a beautiful, memorable experience into a nightmare for the blushing bride. Unfortunately, bridal jewelry shopping doesn't offer a much better experience.
Luckily, not all brands are as far behind the times when it comes to plus size bridal fashion. If you're looking for your dream wedding dress without the stress and anxiety that a traditional bridal store brings to curvy brides, check out Ella & Oak. They offer gorgeous gowns designed for plus size bodies in sizes 12-30 online and can even be found all over the country in popup locations.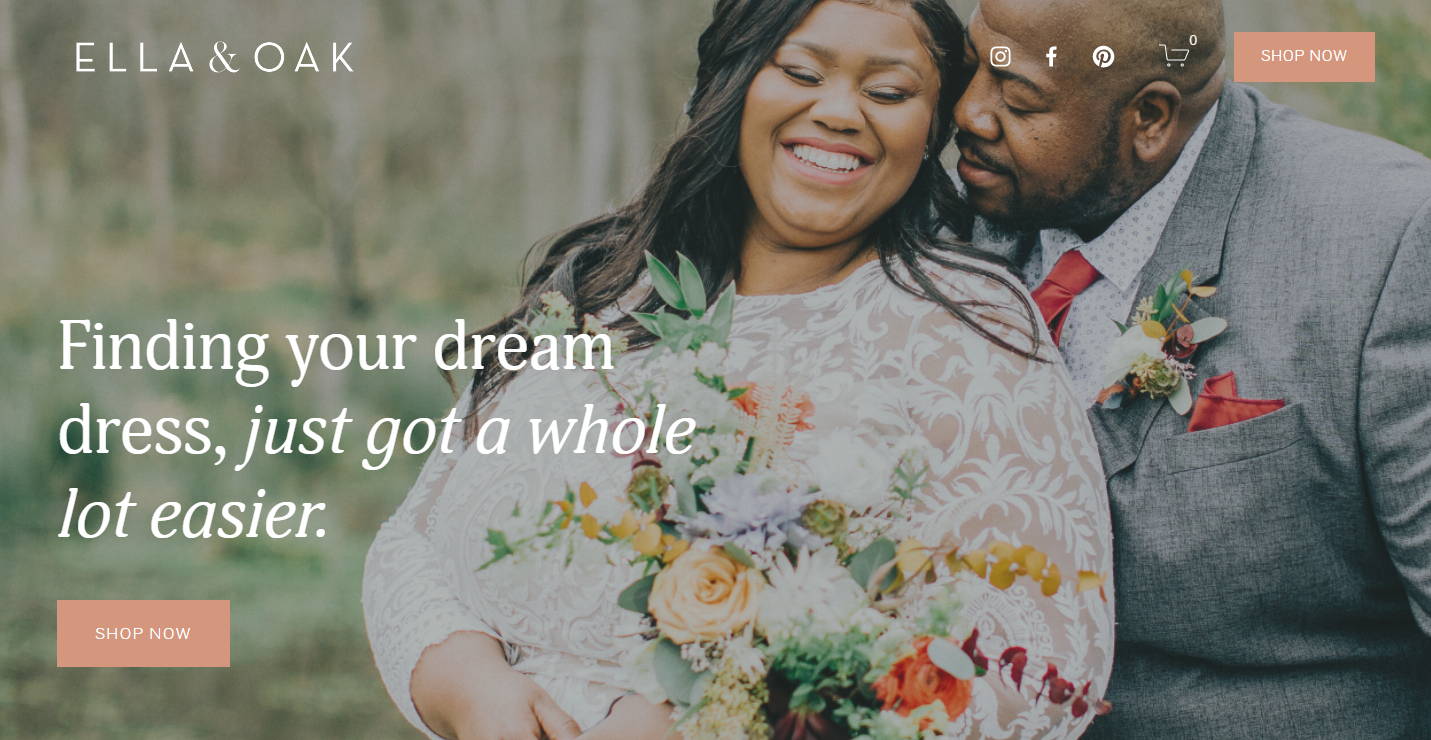 Plus Size Bridal Jewelry Lacking
The state of plus size jewelry is abysmal when compared to apparel. Plus size brides and grooms alike find themselves in a seemingly hopeless hunt to find the perfect style in their size, and often a jeweler even willing to size and customize. If they do find a jeweler willing to sit down with them, the experience is still greatly lacking for what a couple deserves.
Furthermore, a plus size hand shape does not equate to a plus size body type, thereby increasing the number of couples who face this remarkable absence of selection when shopping for plus size wedding rings.
Many fine jewelry brands, such as Kay, Zales, Tiffany & Co., advertise having inclusive sizing options, however, that offer comes with more than a few caveats, especially when it comes to plus size engagement and wedding rings:
Often brands offer a few ring designs up to a size 10 to advertise "inclusive sizing", while the majority of their selection is a size 8 or 9. With plus-size shoppers seeking sizes 12, 13, and above, they're often left with a sense of false promise from leading retailers.
| | |
| --- | --- |
| As of June 30th, 2021 | Largest size on-site |
| | |
| | |
| | |
| | |
| | |
* Based on Live Chat records as of 6/29/2021
The brands that do offer resizing are often stretching a ring and its design that was initially styled to a size 7. The resulting look isn't visually the same without additional gems or band width being considered.
When rings are stretched into a larger size, if additional metal is not added to the width of the band, it can make the ring less durable and more prone to defects and damage.
Although a customer may purchase a ring that is a standard design from a brand, they can still be charged extra for "customization" simply because it isn't typically sold or carried in the larger size that they need. Customization shouldn't be about fitting in, but standing out.
Oftentimes, atypical sizes (from a size 9 and larger in some cases) do not come with the same risk-free returns or warranties as other styles that are carried by default.
Although brands claim to offer a robust collection of "plus size" bridal jewelry including wedding and engagement rings, they are often far from authentic in their approach. By advertising larger sizes and styles, they bring hopeful women to their stores or websites, only to discover that what the brand considers "plus size" is a limited selection of size 10 rings that are not as trendy or well-made as the rings that only go up to a size 8. This leaves already underserved shoppers disappointed and even frustrated at the lack of transparency and options. Just like the fashion clothing industry, the bridal jewelry industry needs to do better.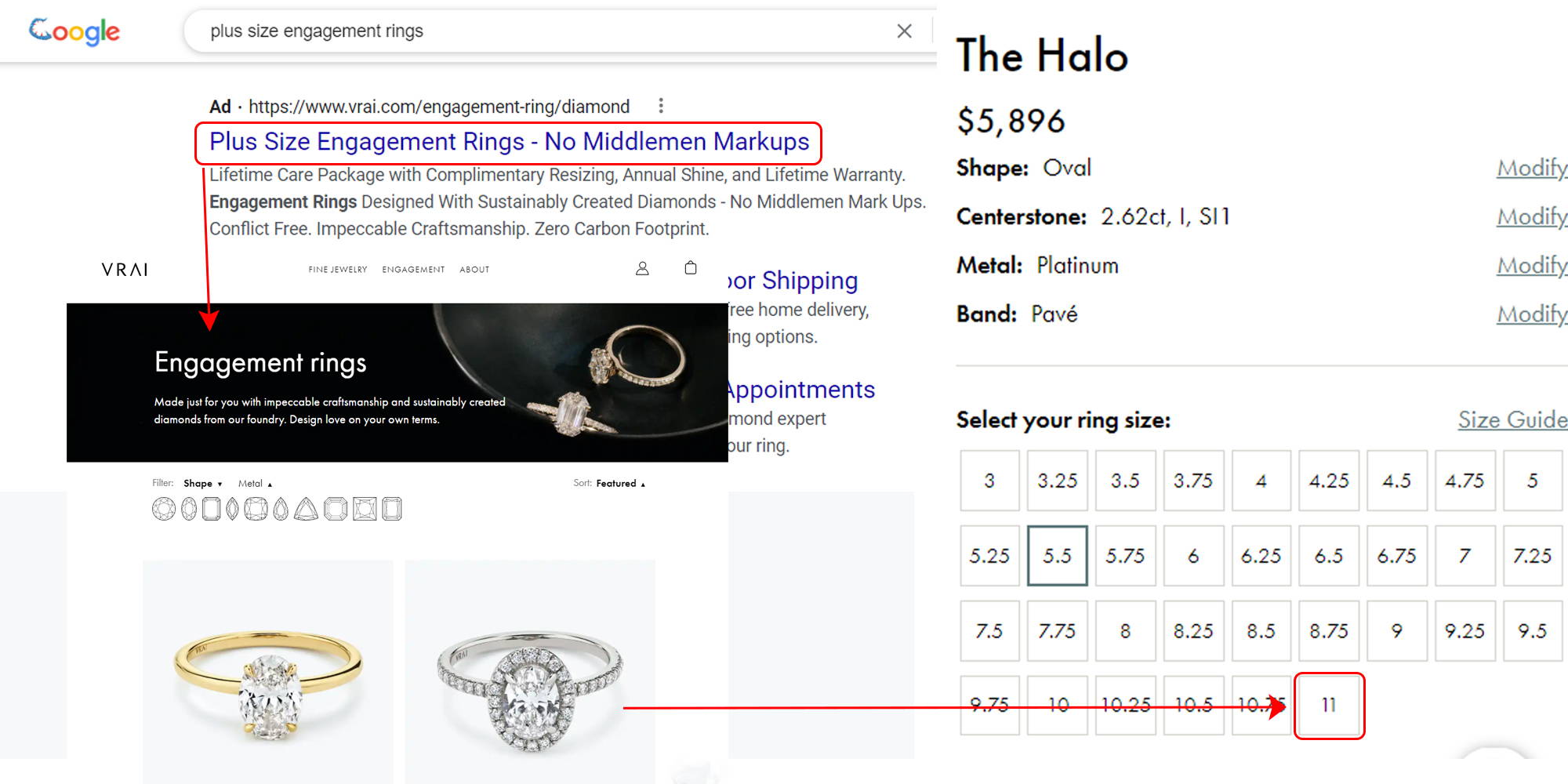 * Google search results from 6/29/2021
Moving Forward in Plus Size Bridal Jewelry
Fortunately, change is abound, albeit slowly. So how should you approach shopping for plus size bridal jewelry, specifically wedding and engagement rings? Read on for some things to consider, tips, and questions to ask when shopping for that perfect ring for you or a loved one.
Before you start shopping, give the jeweler a call and see what their ring sizing process looks like. Standard ring sizers go up to size 17. If you think you will need a larger size, ask the jeweler if they have an extended ring sizer. One option is Mabel & Main's exclusive ring sizer for truly size-inclusive ring finger measurement up to size 24.
If a jeweler offers a resizing service, be sure to inquire exactly how they will be resizing your ring. Will they be stretching and therefore thinning the band or opening the bottom and adding more gold? If the design includes gems along the sides of the band, will they add more to maintain the look at a larger size? You don't want to commit to the purchase of a ring dependent on a resizing fix and end up with a ring that fits but doesn't look at all like the design you originally saw.
Many jewelers that don't typically carry larger sizes often add on a "customization fee" for larger rings. Be sure to specifically ask what the extra charges, if any, will be prior to ordering to make sure that you aren't surprised with a price tag for a ring you may not be able to return.
Although warranties and craftsmanship guarantees are often standard practice for fine jewelers, they may not be offered on resized or custom rings, or they might differ from their standard jewelry lines. Always make sure you know exactly what coverage you are getting before purchasing.
---
In 2017, our sister brand, My Trio Rings, launched the first Plus-Size Bridal Collection, with an array of designs that enabled brides and grooms with larger fingers to find ring styles in their size. But we knew we could do better -- with the launch of Mabel & Main.
At Mabel & Main, we take inclusive sizing to the next level by offering bridal jewelry including wedding and engagement rings up to a size 18 for women and 20 for men as standard. Check out some of our popular styles, all designed at a size 12 to ensure the best diamond coverage and fit, whether it's a size 9 or 20.
Written by Kelsey Forrest